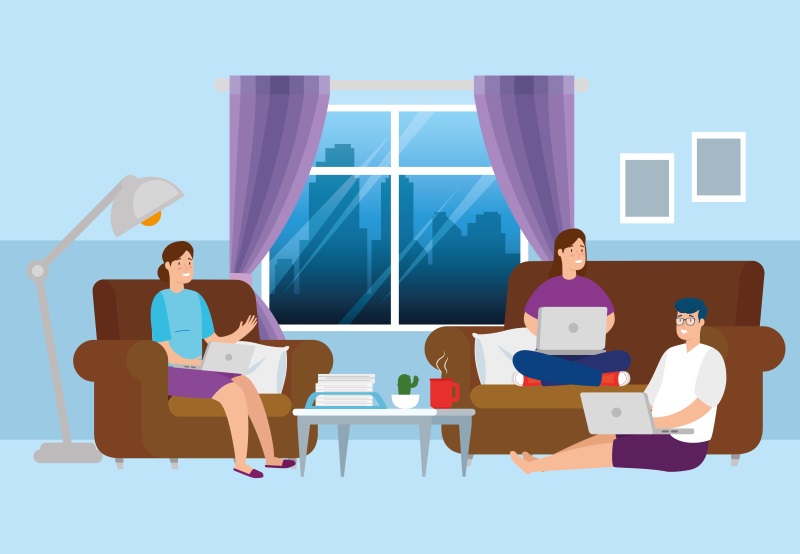 Working remotely means keeping your employees safe and teams connected. If your organization is tackling teleworking for the first time, it's important to make that transition seamless, so your teams can conduct business as usual, even during these extraordinary circumstances.
Here are 2 ways VoIP phone systems allow you to work from anywhere and stay connected.
1 – Use a desk phone at home, or anywhere.
The easiest way to maintain office functionality is to take your IP phone home with you. It's as simple as unplugging the already configured hardware, taking it to your new or temporary location, and reconnecting it to the router. It will magically work as if you never left the office.
This allows you to make or receive calls through your office network, appear in the same ring groups, and perform all the tasks that you could do while sitting at your desk at work.
There's just one VERY IMPORTANT thing to keep in mind about using your phone to work remotely. Your IP phone is registered to your office's location and not your home. You must register your address with the E911 service so dispatch can know your location.
2 – Use a softphone to make and answer calls with your devices.
It may not be practical to bring home your desk phone. An alternative is downloading a softphone application for your smartphone, computer, or tablet. A softphone is a software that lets you make calls over the Internet from your devices and acts exactly like a phone. If you enjoy using your smartphone, you don't have to worry about giving out your personal number, it stays personal.
Used in conjunction with your business telephone system, a softphone can be a powerful tool that enables you to access your office functionality on the fly: all you need is an Internet-enabled device with the application installed on it and you're ready to start working.
At Tech Rage IT, our goal is to enable businesses to work from anywhere. We've designed our VoIP solutions to be simple to deploy and easy to use. If you want to learn more about our solutions, please contact us at 407-278-5664.